We have now instituted a news letter.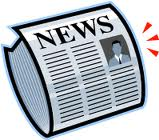 Please view our newsletters by clicking on the newspaper above.
Welcome to Racetrackbiblestudy.com.
We are a
ministry
backed by Calvary Chapel that serves the spiritual as well as the social needs of the racetrack community with bible studies,
jockeys room devotions
,
ministry outreach picnics
, counseling, weddings and more. We're thrilled you've stopped by to check us out.
>> Bible Study Audio Archives
We now have resumed recording bible studies as of Tuesday, September 18, 2012. We hope to play catchup on some previous biblestudies in the near future
We are pleased to provide you with audio archives of our bible study. It is available via download or streaming audio. Feel free to save a study and burn it to c.d. and share it with a friend, co worker or anyone for that matter. We hope you are blessed in listening to Pastor Richard. Our ministry has provided devotions to the Southern California jockey colony in their room before the start of the racing day. We have recorded and posted these devotions to our website for jockeys and everyone else to hear. If anyone would like a copy on c.d. please email us a request at
thoroughbred@racetrackbiblestudy.com
with your snail mail address and we would be happy to send you out a copy. Free downloads of these studies are also available upon request.
SPECIAL THANKS to all the riders for agreeing to advertise our website on their jockey pants. We hope to have as many riders as possible and as the Lord would see fit to have it on their hearts to wear our website on their pants. We now have several riders that are now wearing our advertisement on their pants. <
click here
> to view some of the riders that have worn our pants.
Photo: San Diego Union

*Riders if you'd like to wear our pants please contact us at (626)536-5413
One of our staunchest supporters is jockey Jon Court.
Watch an interview that aired on TVG in which Jon is asked about his pants in part of the interview.
JOCKEYS PANTS AT ART EXHIBIT We are delighted to have our pants featured in artist Kathy Pate's art exhibit at Cal State Fullerton. Kathy's love for the Lord and horses are exhibited in this painting that was on display from October 19th - 25th, 2007.
___________________________________________
JOCKEY PANTS GET A STAKE WIN. Currently there are over 30 riders nationwide that have it on thier heart to wear our website URL on thier jockey pants. Many thanks to all the riders who have worn the pants.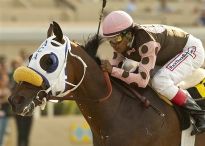 If you'd like to wear the pants please contact our office at
(626) 536-5413 or drop us an email from the
CONTACT US menu on the side of this web site.
___________________________________________
<CHAPLAIN MENA APPOINTED TO CHAPLAIN OF THE JOCKEYS GUILD. Richard is the official Chaplain of the Jockeys Guild.
---
PODCAST!! We are pleased to announce our bible studies are now available for download to your IPOD or mp3 player through PODCAST. Click on the IPOD player below for details.
---
Our ministry is compelled to host outreaches. A typical outreach consists of food, musical entertainment and gifts given away to the backstretch workers at the racetrack. Click here to view some of the events that have taken place in the past few years.
<Click on the photo below for a slide show>
________________________________________________________________
___________________________________________________________________